Yasukawa Nyofu's Nagomi membership
Join us to the world of traditional Japanese art!
Purpose
Learning techniques and spirits of Japanese traditional culture.
Heart-to-heart communication between members.
Activities
1. Publication of a newsletter "Friends of Heart" two times a year.
2. Announcements and special offerings regarding with Nyofu Yaukawa's cultural activities.
3. Organize social gatherings regarding with Kyoto and traditional culture.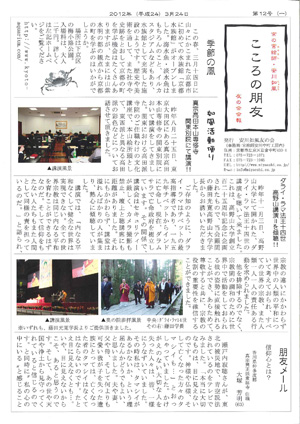 "Friends of Heart" newsletter (click to enlaege)
Contents of the gatherings
1. Studio visit to Yasukawa's workshop. (explanation of the current projects)
2. Visiting temples and shrines which Yasukawa's past works are placed. (include private viewing)
3. Studio visits to other craftsmen's workshop.
4. Combination of the above and guide to sightseeing spots and restaurants.
Membership fee
Admission fee: 5,000 Yen
Annual fee: 5,000 Yen (for general member)
How to subscribe
An application must be filled out completely and filed with the office via FAX or post. Payment slip will be delivered on the subsequent day.
If you have payment slip, please fill out necessary information (including the name of a member whose introducing you to this club on a message column) and complete a payment at the nearest post office.
Download Application (PDF 469KB)
Applications and inquiries
MIYAESHI Nyofu Yasukawa's Friends Club Bureau
(in MIYAESI Yasukawa Nakamachi studio)
〒606-0025
Kyoto City, Sakyo-ward,
Iwakura Nakamachi 433-1
TEL 075-723-1071
FAX 075-723-1045
E-MAIL info@miyaeshi.co.jp
For more information about Nyofu Yasukawa and his works, please visit
http://miyaeshi.co.jp