Ranryo-oh Mask
Nanbu Shusui, a sculptor in Toyama, was commissioned to make a new Ranryo-oh Mask for Meiji-jingu. We had an honor to paint the mask in bright colours.


Dimension: 40cm (Length) x 30cm (Width) x 22cm (Height)
Made of cypress wood and silver on eyes and teeth, yak hair on eyebrows and beard.
Painting style: Gokusaishiki
About Ranryo-oh Mask
Ranryo-oh Mask is used in one of the traditional Japanese dance based on the episode of an warrior Gao Changgong in the late Northern Qi dynasty.

Gao Changgong was a brave warrior of Northern Qi who had an overwhelming beauty on his face, even vassals lost their will to fight. He covered his face with a vigorous mask in a fight which achieved a great victory.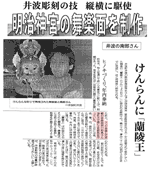 From Toyama Newspaper article, 1994/12/16 (click to enlarge)